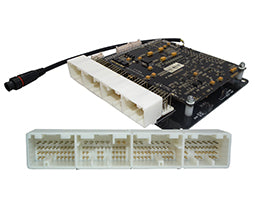 Subaru WRX & STI V10 06-07 PNP ECU
Regular price $1,750.00 Sale
Free yourself from the constraints of the factory ECU. 
The Link G4X WRXLink (07) WRX107X PlugIn fits the Subaru WRX & STI V10 06-07. The ECU PCB fits discretely inside the original factory enclosure. 

Installation of Link's Subaru WRX107X ECU is a breeze with no alteration of the factory wiring loom required. A built-in connector (or pins in some models) provides additional inputs and outputs such as oil pressure inputs or anti-lag / logging switches. 

Factory features are supported - see Features for any exceptions.

Includes e-throttle and variable cam control.

MAP Sensor not included.



Need more inputs and outputs? 


The XS Expansion Loom offers the ability to add additional inputs & outputs on our range of plug-in ECUs. 
.