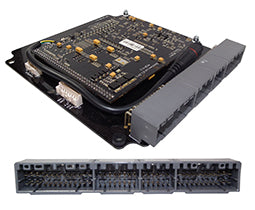 RX7 (S6) LINK PNP
Regular price $1,350.00 Sale
Free yourself from the constraints of the factory ECU.

The Link G4X RX7Link (S6) RX7S6-X PlugIn fits the Mazda RX7 Series 6. The ECU PCB fits discretely inside the original factory enclosure.

Installation of Link's RX7 PlugIn ECU is a breeze with no alteration of the factory wiring loom required.

A built-in connector (or pins in some models) provides additional inputs and outputs such as oil pressure inputs or anti-lag / logging switches.

Factory features are supported - see Features for any exceptions. Includes oil pump control, single turbo only.

This ECU will support naturally aspirated, parallel twin or single turbo configurations. 
MAP Sensor not included.





Need more inputs and outputs? 


The

 

XS Expansion Loom offers the ability to add additional inputs & outputs on our range of plug-in ECUs.